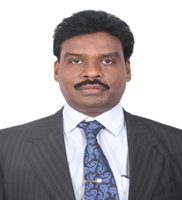 Dr. B. Murali Manohar.
M. Com., M.B.A., M. Phil., FDPM (I I M A)., Ph. D
Professor & Dean – SCM
(Former Senior Professor – VIT Business School & Director – VIT Central Library)
A person with more than three decades of experience in academics and industry which span within India and abroad, out of these 27 years at Vellore Institute of Technology, an Institution of Eminence, as recognized by the Government of India. Completed the Visiting Professor assignment for six months (Oct 1, 2011, to March 31, 2012) at CMIS, University of Cologne, Germany sponsored by DAAD. Completed successfully the UNDP assignment for 2 yearsemployed by Ministry of Education, Govt. of Ethiopia.at Debub University, Awassa, Ethiopia during 2003-05. Associated with the MBA program from its inception (1994) at VIT. Actively involved in the activities of NBA accreditation, ISO –9002 from DNV, the Netherlands, and Deemed University status from the Ministry of HRD, Govt. of India at VIT. Secured the Ph. D in E-Commerce from Sri Venkateshwara University, Tirupati during December 2008. Having 2 years of Industrial experience and more than 20 years of teaching experience both at UG and PG level Management Programs. Secured recognition from the employers as Best Executive / Best Teacher in the past. Received Fellowship from Rotary Int, U S A to visit East Yorkshire, U K during April – June 2000 as a part of the Group Study Exchange program to study the culture and profession. Carried out successful research/consultancy assignments in the past. Successfully presented more than 30 papers at various National and International Conferences. Authored 3 management cases in the past few years and published more than 45 papers in International and Nationally reputed (referred) journals/periodicals and edited volumes in India and abroad. Reviewed 3 Management books and published the same in the Review Projector a special journal devoted to reviewing books in India. Four research scholars have completed their Ph.D. under the guidance/supervision and one Ph. D scholar is in the final stage of submission of the thesis. Two candidates have completed M. Phil and more than 100 MBA projects guidance during the last 30 Years. Joined as Professor & Dean of School of Commerce & Management at DYP – Agriculture & Technology University on December 22, 2021. Currently a reviewer for many of the reputed International Journals published by Elsevier, IEEE, USA and Sage, London (UK) and on the Editorial Board of African Journal of Business Management. He has visited many countries like the UK, USA, Ethiopia, Kenya, UAE, Germany, France, Netherlands, Czech Republic, Belgium, Singapore, and Malaysia, etc. in the last decade or so.