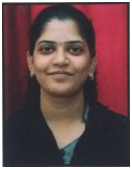 Dr. Shubhangi S. Jagtap.
M.B.A, M.Phil., Ph.D. (Commerce and Management), N.E.T. (Management)

Assistant Professor
E-mail: shubhangijagtap@dyp-atu.org
Enthusiastic teacher having research-oriented mindset and having academic experience of more than 12 years. Taught different subjects under Finance specialization. Love to coordinate and organize events. Dedicated and committed towards responsibilities taken. Published papers in UGC CARE listed journals. Successfully presented more than 20 papers at various National and International Conferences. Joined as Assistant Professor in School of Business Management at D Y Patil Agriculture & Technology University, Talsande.