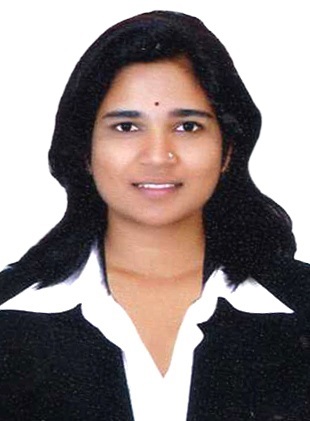 Dr. Mangal Adagounda Patil.
M. Tech (IDE); PhD (IWME/SWE)
Assistant Professor (Agricultural Engineering)
Faculty of Agricultural Engineering; SE & T,
DYP-ATU, Talsande, Kolhapur (MS), India
Mobile: +91 9890328688
Email ID: mangalpatil@dyp-atu.org
Dr. Mangal A. Patil has more than 4 and half years' experience in academics, research, extension and industry. She has completed her PhD in Irrigation Water Management Engineering from College of Technology and Engineering (CTAE), MPUAT, Udaipur, Rajasthan, India and received INSPIRE fellowship given by Department of Science and Technology (DST) of Government of India during her PhD work. She has also awarded with University Merit Scholarship during her master's programme held at Mahatma Phule Krishi Vidyapeeth, Rahuri. She has qualified NET examination in the area of Land and Water Management Engineering conducted by ASRB, New Delhi in 2015. Earlier she has worked as Research associate in world bank funded ICAR-NAHEP project entitled "Centre for Advanced Agricultural Science and Technology for Climate Smart Agriculture and Water Management (CAAST-CSAWM)" functioning at Mahatma Phule Krishi Vidyapeeth, Rahuri; as Assistant Professor and Head of the Department of Irrigation of Irrigation and Drainage Engineering at Dr. D. Y. Patil College of Agricultural Engineering and Technology, Talsande; and as a Design Engineer at Netafim Irrigation India Pvt. Ltd. She has published 9 research papers in national and international reputed journals; 7 books; 5 different booklets/newspaper articles/magazine articles/mass awareness articles; 2 recommendations in joint agresco; and 35 popular article/non-referred proceeding paper, conferences, book chapters, presented an extended summary etc. She also completed 9 special training programmes related to specialization and organized more than 20 trainings/workshops/expert lectures/interfaces and 3 certificate courses; and also assisted in development of course curricula of 5 different courses of PG Diploma in Climate Smart Agriculture and Water Management. She guided 24 UG students of Agricultural Engineering. She is Life Member of Indian Society of Agricultural Engineers and Association of Agrometeorologists; and also, Member of International Journal of Agricultural Engineering and Member, Indian Association of Soil and Water Conservationists. She is having expertise in the area of climatological modelling, hydrological modelling for climate change impact assessment, application of remote sensing and Geographical Information System (GIS) in irrigation water management, hydrology, protected cultivation etc.